FlyLady welcomed BlogTalkRadio to her FLY family, and we would like to welcome her to our community in return.
FlyLady.net is the internet home of FlyLady Marla Cilley and her FLY crew, a team of individuals committed to helping empower us to gain control of our homes and lives. Together they have authored books and created tools to help us organize, laugh, and get it together. The FLY crew has been broadcasting a show to interact with their followers, and yesterday decided to go live with us on BlogTalkRadio.
We got to experience FlyLady On The Fly!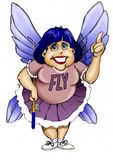 During the show, hosts FlyLady and Leanne graced us with homespun advice about how to get your house and life in order. I tuned in for my inaugural experience with the FlyLady and was drawn in by her humor and honesty, and the enthusiasm of her listeners. It's no wonder she has so many followers on the 'net.
In her email to the FLY community, FlyLady said BlogTalkRadio "gives those of us who have a community on the internet a place to talk with our friends and family. It was just like sitting down at our kitchen table and having coffee with our friends."
Check out FLyLady's BlogTalkRadio host channel as well as her radio home on FlyLady.net for updates!
Hilary