A relatively new parent myself, children's books are becoming an increasingly important part of my life. So I'm always on the lookout for new, great books.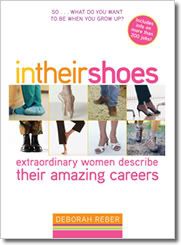 Today at 3pm ET, the scheduled guest on Book Bites for Kids is children's author Deborah Reber. She'll talk about her book – In Their Shoes, in which extraordinary women describe their careers.
Book Bites for Kids features an interview with a successful children's author and/or illustrator every Friday. Host Suzanne Lieurance discusses this author's books and offer tips to help aspiring children's authors or illustrators get their careers started.
-Luke