I spent this past Wednesday at the Network Journalism Summit hosted by Jeff Jarvis and CUNY. That's me and Ed Sussman, President of Mansueto Digital. (Mansueto is the parent company of Inc. and Fast Company). I've included links below to a number of the great interviews we did at NJS.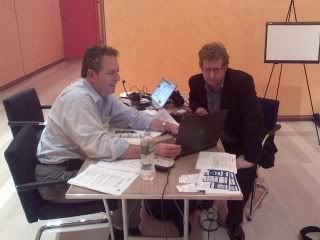 John Havens, BlogTalkRadio's VP Business Development, and I conducted interviews with some of the brightest minds in the space. After searching high and low for an analog phone line (especially in the brand spanking new NY Times building), we were able to host live streamed interviews throughout the day. Here is a full list of the interviews along with a clip of the recorded interview. The interviews lasted no longer than 15 or twenty minutes.
As opposed to traditional media companies that have focused on a "one to many" model, BlogTalkradio has embraced a "many to many" model. Our view is that by empowering and enabling anyone to host a live call in radio show, we have created thousands of content publishers. These publishers, who we affectionately call our "hosts" engage their own audience and thereby extend the power and reach of the network.
Interestingly, ALL of the senior managers we interviewed from these well established and enormous media companies were all talking about developing platforms to engage their audience. These companies can no longer "talk to" their audience, but rather must figure out ways to "talk with" their audience. This shift in ideology rings music to my ears. The key premise of BlogTalkRadio is to facilitate conversation between the content publisher and their audience.
While our technology merges one of the oldest technologies in the world, the phone, with some of the newest technologies, at its very core, BlogTalkRadio is a very simple concept. If so, why does it seem so difficult to comprehend? I have been at this for a little more than one year and in that time we have produced more than 31,000 segments produced by thousands of hosts. Yet, I constantly engage some of the brightest minds in media and the web and I get the all too familiar.."huh?". After a few minutes guiding them through the platform, the "huh?" invariably turns into "ahaha". The problem is that most times you don't get a few minutes to convey an idea.
So this leads to me to my friend Dave Winer. I met Dave a few months ago through Lisa Padilla, our VP Marketing. Over the past few months we have spoken a number of times, collaborated on developing the voice enabled Twittergram application and enjoyed breakfast in Berkeley and most recently had dinner in NYC Wednesday night. After hearing one of my canned pitches, Dave said "why not just tell people you let anyone host a call in radio show?" Sold.
During the Jarvis conference Dave was nice enough to introduce me to NPR "legend" Chris Lydon, LiveWorld SVP Jay Bryant, Steve Garfield and others. Steve, thanks for the picture.
-Alan
Some BlogTalkRadio Interviews from Networked Journalism Conference
Interview with John Hassell, Deputy Managing Editor of the Star Ledger
Interview with Jeff Burkett, Director, Sales Development for Washingtonpost.Newsweek Interactive
Interview with Ed Sussman, President of Mansueto Digital Ventures.
Interview with Mark Lukasiewicz, Vice President, Digital Media for NBC News.
Interview with Jeff Howe, Contributing Editor, WIRED.