BlogTalkRadio's "Mr. Fabulous" from Gainesville, FL is on his way to live happily ever after with his ladylove, "Turnbaby" from Lexington, KY–
who's also a BTR host!
The couple met in March 2007 when Turnbaby read Mr. Fabulous' blog on his BlogTalkRadio show "Pointless Drivel" and, intrigued, left a comment. He responded.
Shortly after, Turnbaby called into Mr. Fabulous' show to chat. "The chemistry was instant," he says.
In the following weeks, Turnbaby, an avid blogger herself, called in several more times to chat. Meanwhile,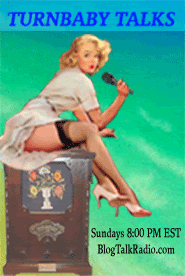 she had launched her own BTR show, "Turnbaby Talks."
"We were chatting about texting – which I do a LOT. I'm like a 14-year-old girl," says Mr. Fabulous.
Many jokes back and forth through texts and they were both hooked.
Love was in bloom – but not so fast: At the time, both Mr. Fabulous and Turnbaby were…
…married to other people.
Cut to February 2008: Finally – Turnbaby and Mr. Fabulous meet in real life.
"Neither of us was disappointed," winks Mr. Fabulous.

After that, they met just once more, in Atlanta, in April 2008, before he asked her to be his wife – and she accepted.
Cut to today: Mr. Fabulous is in his car, passing into Kentucky. Having quit is job, he's on his way to move in with his fiancée and start a new life.
This Sunday, June 1, at 7 p.m. ET, Mr. Fabulous welcomes Turnbaby onto his show, to give her a special present on-air.
Immediately following that, at 8 p.m., Turnbaby will have Mr. Fab on HER show.
Both will be broadcasting from a new studio they set up in their love nest.
"I like to think of us a power-blog couple," says Mr. Fabulous "But we're certainly not the first. It's a growing trend."