Warren G is a rap legend whose hit song "Regulate" with Nate Dogg can be found in karaoke bars, on playlists and iPods everywhere as a beloved hit of the 1990s.
The rap star will join BTR host Dr. Blogstein for his Radio Happy Hour tonight, to discuss his role on the new show Celebrity Rap Superstar, as the mentor of Countess Vaughan, teaching her everything he knows about music.
Celebrity Rap Superstar is the newest show in the MTV lineup, where celebrities are paired with rappers as mentors, who coach them in a ten-week performance competition against each other. Each week one of the competing celebs is voted off the show, until the champion remains.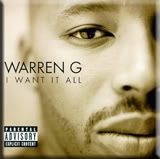 Join Warren G and Dr. Blogstein at 9pm ET.
Hilary