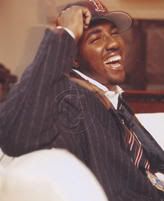 As an American Idol fan of years gone by, I have like everyone else had my favorites.  I have my top 3 and one of them is George Huff from season 3. His deep soulful voice and heartfelt smile made American Idol season 3 something to look foward to every week.  George took 5th place and shot to instant stardom virtually overnight, just last week his sister was on BlogTalkRadio talking about his overnight fame has changed their lives forever.
BlogTalkRadio is honored to be joined by George Huff On Tuesday February 6th, 2007 at 10:00 pm right after the airing of American Idol that night.
George will discuss his album Miracle's and will be talking about that, and also how Hurricane Katrina  had him leave his childhood home in New Orlean's.