Well the BlogHer Conference in Chicago is coming to a close, but I thought anyone who has been reading about my adventures here might also want some visuals.
So here are some of my favorite snapshots from the event. Enjoy!!


Kristen Chase broadcasting Mominatrix Radio at the Friday cocktail party.


A line of eager BlogHer attendees waiting to tell the Mominatrix their hot conception stories.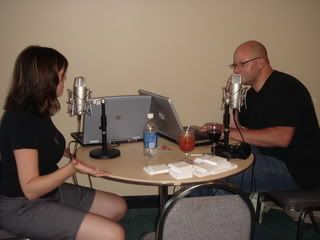 The Whipping Boy and the Mominatrix with all their gear and professional mics (using Skype!)


Fellow bloggers joining the conversation.
Finally meeting Denise Wakeman of The Blog Squad!
What a great time I had representing BlogTalkRadio at BlogHer 2007 and meeting hosts and many listeners!
Hilary