The third installation of the Movie Geeks' Film Director's Series is upon us. This time the Geeks are featuring the legendary Brian De Palma, and here's a sampling of the talented guests they will be chatting with on the special segment:
Eyal Peretz, a film theorist, whose new book, "Becoming Visionary: Brian De Palma's Cinematic Education of the Senses", will be released in October. He currently teaches Comparative Literature at Indiana University.
William Katt, whose first film "Carrie" was also Brian De Palma's first major hit. Katt has appeared as the young Robert Redford in "Butch Cassidy and the Sundance Kid: The Early Years," "House," and was the lead in the legendary television series "The Greatest American Hero."
William Finley, who went to college with De Palma and has appeared in many of his films, including "Sisters," "Dressed to Kill," and "The Black Dahlia." One of De Palma's closest friends and creative collaborators, Finley offers insight into De Palma the man as well as the artist.
Geoff Beran, who has created one of the most impressive sites on the web dedicated to De Palma – De Palma A La Mod, a hub for De Palma fans on the web, which includes several interviews Beran conducted with De Palma.
Armond White, critic from the New York Press, for a roundtable discussion of De Palma's most important works. White has taken over for critic Pauline Kael in his appreciation of De Palma.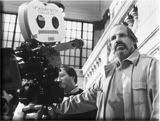 Catch the Movie Geeks at 6pm EST for all the De Palma discussion you've ever hoped for!

Hilary