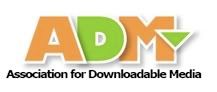 BlogTalkRadio is proud to be a founding member of The Association for Downloadable Media. Here's their/our mission statement and key objectives:
To provide leadership in and organization of advertising and audience measurement standards, research, education and advocacy to all those involved in portable media (Podcasts/ATOM/RSS media enclosures) across the Internet, iPods, MP3 players, mobile devices, P2P and other upcoming platforms.

The Association's Key Objectives
To support the momentum around advertising and sponsorship of audio and video podcasting to create revenue for all groups in the ADM constituency

To establish terminology, standards, guidelines and best-practices that make downloadable content easy to justify, buy, scale and measure both in advertising efficacy and audience metrics

To support and provide a network through which the industry can share knowledge and educate advertisers, agencies, press and analysts as well as content producers and distributors in understanding the unique attributes and value of portable media
To be an advocate for everyone from individual podcasters to major media companies who deliver content in a downloadable format across multiple platforms
I've been in the podcast field for about two years and essentially since I started in the business multiple industry leaders have said how important it is that we have an association that focuses on podcasting/downloadable media in regards to standards and metrics. I believe this is that association and am very proud to be a part of it with BlogTalkRadio. More on the ADM as it evolves in the near future.
-John C. Havens