Thelma Houston boasts a legendary career as a Disco singer-songwriter and actress.
In 1977, Thelma earned a Grammy for Best Female Vocal Performance for her #1 hit song Don't Leave Me This Way. Her music has withstood the test of time, in fact Don't Leave Me This Way was inducted into the Dance Music Hall of Fame in 2004.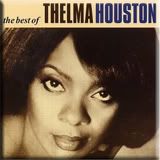 Thelma has worked with artists such as Jermaine Jackson, The Commodores, Donna Summer, and Patti LaBelle, among others.
On August 14, Thelma is slated to release her first album in 17 years, entitled A Woman's Touch. The album includes Thelma's renditions of soul songs originally performed by men, such as Luther Vandross, Sting, Al Green, and Marvin Gaye.
We extend a warm welcome to Thelma.

Tune in LIVE to hear more about her new music on April Sims Arts and Entertainment Radio at 7pm EST!
Hilary