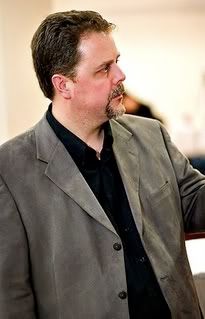 I've done a LOT of research in my role as the About.com Guide to Podcasting on which "Web 2.0" companies have the greatest potential for survival moving forward in our current tenuous media space.
There are a myriad of great products and services available at the moment, plus podcast (audio and video) networks/directories with large amounts of content available as well.
By the way, I should mention my name is John C. Havens and I've just come on as VP of Business Development here at BlogTalkRadio. Beyond my work with About.com I'm also the Lead Organizer for PodCamp NYC, an "unconference" that took place last April in NYC with over 850 participants that's happening again in March of '08.
So, reason one I'm happy to be here per my thoughts above – BTR offers a great service AND a robust network of content. I like two for one deals.
Reason two I'm happy to be here – BTR allows people to record their shows via their phones. Sounds simple, I know. And that's why it works. For the past year or so I've been working with corporate folks to introduce them to podcasting and new media technology. As much as they'd like to get involved creating a podcast series or what have you, they lament the fact they can't afford to buy MP3 players to provide the delivery mechanisms for people to listen to the shows they create.
When I tell them folks can listen via their computers they assume (correctly) that employees would then have to download software (a podcatcher like iTunes) for folks to retrieve/hear new shows. And in corporate land, downloading anything (except maybe a Mars bar at the candy machine) is a huge nyet-nyet. Can't do it. Conversation stops right there. So offering people a tool to both create and listen to shows that they already have and can use – their phone – is a big da da ("Yes yes" to continue in the Russian vein).
Reason three I'm happy to be here – Alan Levy (BTR CEO) and his team are amazingly energetic evangelists for BlogTalkRadio. My working here should be evidence of that as Alan's passionate discourses about the nature of broadcasting and the Internet are highly persuasive. (If you don't believe me, listen to his show). He's genuinely got a heart to help people broadcast their content as easily as possible and his passion is infectious.
Reason four I'm happy to be here (and then I'm done) is working at BTR is more like joining a movement than taking a job. And although I've enjoyed having my own consultant firm, I love being part of a team with people who have skills I don't. (And I work well alone, but my conversations tend to be one-way and IMing gets sort of dull). Point being, I'm very excited to enter BTR-land and am honored to be here.
I'll initially be working to help develop our White Label offerings to help companies Broadcast Their Brand. Plus I'll be moving my About.com Guide to Podcasting Podcast onto the BTR network and I'd love for you to join my live calls once I get that set up. And I'll be blogging here about new media issues in general, as well as BTR specific activities on a regular basis.
Thanks for listening. You'll be hearing more from me soon.