Back in 1999 when the power of the internet was still being discovered for creating buzz for films, the folks at The Blair Witch Project set the tone for how indie films can become smash hits and film legend.
The low-budget Blair Witch Project was filmed in digital video to underscore the premise of the film wherein student documentary filmmakers encounter the horrors of the Blair Witch in "real life." This reality style was unprecedented for feature films in wide distribution at the time, and the film's internet buzz enabled it to gross over $248 million worldwide.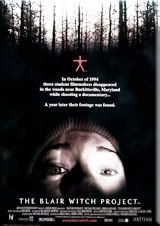 We at BlogTalkRadio are pleased that the reunion of the creative minds behind the film will be live on the air with our friends at Movie Geeks United.
It is fitting that the pioneers of creating publicity on the internet to make their film experience more participatory and interactive will reconvene on BlogTalkRadio, the forum where the new wave of internet buzz creators get the word out.
Some guests will include Eduardo Sanchez and Daniel Myrick, the writing and directing team of The Blair Witch Project, co-star Michael Williams, with surprise additional members of the Blair Witch team.
After the Blair Witch segment, stay tuned for Kevin Kelley and Chris Ullrich, contributors to Cinematical, for the inside scoop on "Indiana Jones 4," "The Dark Knight," and "Iron Man." Hal Masonberg, the director of the recent horror film, The Plague, will be in attendance as well.
Hilary