Although a few speakers were held up in Washington with voting through in the weekend in the House and Senate, among them Sen. Harry Reid, Speaker Nancy Pelosi, and Congressman Rahm Emanuel, the YearlyKos Convention marches on.
In fact, an exciting event that has been confirmed is the Hillary Clinton breakout session after the Presidential Leadership Forum. Lucky attendees will have their opportunity to challenge the Senator, asking her the hard hitting questions.
It's the principle of the CNN/YouTube debates, but live and in person.
Tune into the YearlyKos host channel, broadcasting continuous streams of interviews, opinion, and review. And remember, all listeners at home can call in and join the conversation.
Here is a snapshot that was posted on Snorfbat's Flickr of the BlogTalkRadio live broadcasting area: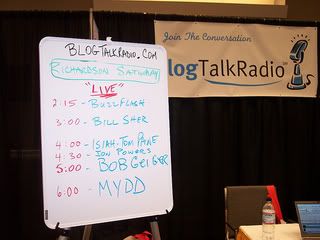 Hilary