We're in for a treat when Meagan Tandy, Miss California USA 2007, and one of the 5 finalists for the Miss USA title, joins hosts Plunket P and Shawn Pelofsky on InDaNo at 10pm EST.
Meagan placed third runner-up in the Miss USA pageant held in March, and is only the fourth African-American Miss California USA.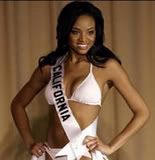 In addition to being absolutely gorgeous, Meagan is very passionate and active in public service and assisting the Women on the Move Network, and the Whose Your Hero mentoring program. Meagan is also an advocate for local city missions where she and a team of volunteers collect food and clothing for the less fortunate.
She's not just a beauty pageant winner and model, but she's a role model and we extend a warm welcome to Miss California 2007 to the BTR airwaves on InDaNo.
Catch Meagan LIVE at 10pm EST.
Hilary