You can't help but be impressed with Terry Cummings. His NBA career is record-breaking, as he is one of only eight players in NBA history to play 18 years or more. He also holds impressive records games played, points scored, and field goals made.
During his 18 year NBA career, Cummings played with several different franchises. But he appeared in the playoffs 13 of those 18 years, and was a two time All-Star. That's not bad.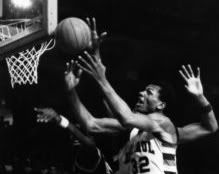 After his retirement from basketball, Cummings turned his focus to music. After becoming an ordained Minister, Cummings' career took a very creative turn. He recently released an album entitled "T.C. Finally."
Cummings wrote all the songs on the album, and performs gracefully by singing and playing keyboard. Terry's music has been compared to Al Green, Marvin Gaye, and Sam Cook in its soulfulness.
BlogTalkRadio welcomes Terry Cummings tonight on April Sims Arts and Entertainment Radio at 7pm EST.
Call in to talk to Terry about basketball, music, or anything in-between.
Hilary