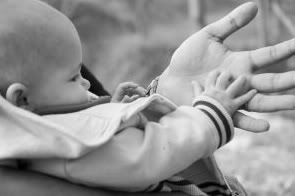 In a shameless bit of self promotion, I wanted to share that I'm starting a new BTR show called "Pop" Culture that focuses on modern fatherhood. I founded and have been running a father's group by that name that's met for over two years near my house in suburban New Jersey. I started it because my son was two at the time and I took care of him during some days as my wife and I were freelancers. Some days she worked and I was daddy, other days I worked and she was mommy.
I found my experience to be quite interesting on local playgrounds. Typically I was the only guy to be seen, and I was often greeted warmly by phrases like, "Taking the day off today?" Although I appreciated what I sensed was genuine appreciation at times by moms/nannies who enjoyed seeing a dad interact with his kids, I also grew uncomfortable at the idea of what it means to be a modern dad.
In the 50's, my job was fairly easy. I was the breadwinner, period. I came home and everything was perfect or I got to get angry. Nowadays society expects me to be fully invested in my kids (which I was already, thanks) as well as being the breadwinner. I think this is a great step forward, but I won't lie to you – it makes my life a lot more complicated.
And wonderful. Out of all the jobs I've ever had (and I've had many) being a dad is the most important. And nobody trains you to be a dad, except maybe your own father (who I'm interviewing on my first show although I haven't told him yet – he's a psychiatrist; call in at (646) 716-7910 and if he answers your question you'll save $150/hour). Beyond that, you're sort of on your own when you take your child home from the hospital.
I should point out here this does NOT mean I think modern moms have it easy. Not at all. But they do have a lot of books and playgroups to help provide a social and support network whereas guys largely don't. Hence my starting my group and this show.
I hope you'll tune in if you're a dad or dad to be to engage in discussions on issues like discipline, getting time with your spouse, balancing work and family, and whatever else we come up with. I'll be interviewing guests on a regular basis but would greatly welcome questions. Also, keep in mind my focus is more on supporting fathers and their kids than providing a specific set of answers. It's essential that dads edify each other and provide tools to help us raise our kids in as loving and nurturing way as possible.
Plus find the time to still be a husband, employee, and when time allows (aka: never) have a life of your own.