I'm a huge advocate for social media, especially blogging and podcasting. Whether you're a passionate cactus grower or businessperson, I believe this era of new media is your opportunity for sharing your passions.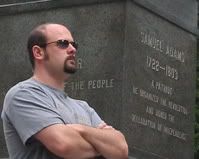 So I'm proud to have joined BlogTalkRadio. Hi, this is Luke Armour, the new Public Relations Coordinator. Never have I found a service that makes podcasting so intuitive and simple. BlogTalkRadio tackles the two biggest issues I've had with podcasting since I first discovered it in 2005.
First, podcasting can be hard to do. Even worse, the learning curve for podcast listeners can be steep. Secondly, the entire community of a podcast is timeshifted. While timeshifting for me is one of the greatest advantages of the podcast medium, there has always been something missing from a podcast community because of this.
BlogTalkRadio addresses both issues. It's easy to do and it streams live to allow for real-time, interactive community engagement. And then – tadaa! – the archived shows are turned into podcasts. It's live-action and timeshifting in one – a true social radio network.
Our hosts demonstrate the platform with their passions week after week with amazing guests and outstanding content across a variety of topics. Ed Morrissey democratizes politics, BoingBoing's Mark Frauenfelder teaches you how to rule the web, Shaun OMac entertains with news, and the FoxSports bloggers show tackles tough topics. Someone needs to make sure this enthusiasm gets noticed. And that's one of the main reasons I'm here.
So I look forward to working with this great ensemble and getting our dedicated hosts recognized for their talents. Drop me a line or read more about me at my blog.