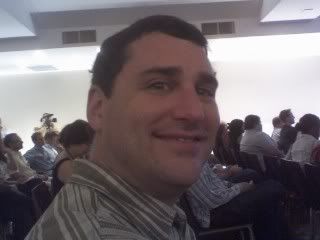 I had a great time attending Mint Digital's UGTV event last week and recorded people's thoughts/observations afterward to get their feedback. (The picture is of my buddy, Howard Greenstein, fellow PodCamp NYC organizer who also attended the event).
I appreciated the format of the event – first off, there was air conditioning which was key since it was horridly humid outside. Secondly, there was ample time to talk/network before the event began which demonstrates to me that the Mint folks understand that we who attend a lot of conferences appreciate networking time almost as much as an event itself. Then when people reflect on the content of the evening they also remember how much they enjoyed hanging out before and after and appreciate the overall atmosphere. This may sound minor, but take it from someone who runs a lot of events – how you frame your content is key in a live situation for folks who understand that any conference they might attend in person will likely be available online soon afterwards. You have to give them a reason to be there in the flesh.
Bit I digress. After a brief introduction, each panel members gave a brief (five minutes) synopsis of the work they're doing with user generated media. Kenny Miller from MTVN pointed out the interactive tools they provide to let users chat with one another in the body of online shows. Very cool. And Shelly Palmer of Media 3.0, as always, quickly described how anyone can now have a portable HDTV studio wherever they go and how that's already transforming content online. However, he also made an important distinction about promotion. Wherever you create and host your content, promotion is still key in terms of viewership and potential monetization.
As you'll hear by people's comments after the event, most people agree that we're still in an ambivalent time regarding the nature of user-generated content. There are lots of pros – democracy in production, ease of production, ease of distribution. But there are cons as well – not everyone likes videos of dogs on skateboards (at least after the fourth time), and we content producers wonder how online advertising will pan out. Do we need thousands of people downloading our material on a regular basis to even make a part-time salary? Why won't people pay for content versus having to have an ad-supported model?
Lots of questions and good to have places like UGTV to sort them out.