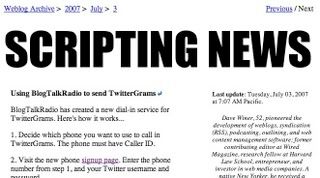 Special thanks to Dave Winer for his post today on Using BlogTalkRadio to send TwitterGrams. If you're currently using Twitter, just go to the sign in page Dave's created and enter in your phone number (must have Caller ID). Then call 646-716-6000 and leave a short message (30 seconds or less for the Twitter-centric) and you're set. You can see the results of my first TwitterGram below.
For us at BTR this is huge. I have to work to find any of my new media buddies not using Twitter, so to be involved with Dave's project provides a great boost to tomorrow's holiday.
Speaking of which, Happy Fourth to you and yours.
-John