As of this month BlogTalkRadio has implemented a new feature for its hosts. We are very excited to bring you "Live Help" and to be able to chat live with our hosts as you have questions. We are able to give you the help you need as it happen's on a daily basis. From 9 am till midnight EST someone is available to answer any of your BlogTalkRadio quesions.
Your Live Help chat feature can be found at the top right-hand corner of your dashboard. You can find it written in red letters, and with one click of a mouse a BlogTalkRadio technician is on hand to help you with your BlogTalkRadio needs.
Here is an example of where to find the link to the chatbox……..just click on LIVE HELP when activating.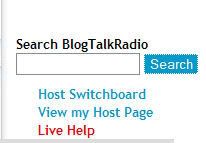 Here is an example of what the chat box looks like……..

Once again we bring you yet another exciting new feature for your use on BlogTalkRadio.