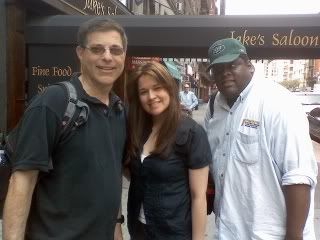 I met a lot of great people today in NYC, starting with Edmund Bogen, CEO of Breakfast Network. I was recommended to BN by my good friend Barry Sarner of Imprint Alliance, who has now started his own Meetup Group which I'm sure will be a raving success.
Both Edmund and Barry demonstrate a vital aspect of life in Web 2.0 world – you still have to actually meet with live people every once in a while versus just interacting with a screen. I'm a big fan of Second Life, wiki's, and so on, but you have to commune with people person to person (or voice to voice on BTR) to maintain a sense of reality and connectedness.
The picture is of my buddy Gary Baumgarten, (and colleagues Tanya and Ira) Director of news and programming for Paltalk, the "world's largest live video chat community." They've got something like four million users which is frankly hard to comprehend. Gary also has a great blog and show that you can check out on his site. I also took some video of him today I'll post in the next day or so.
Finally, a shout out to Toby Daniels, VP of Business Development for Mint Digital, a firm that's doing some extremely innovative work with projects like Islandoo. Here's a blurb from their site:
Islandoo is a place to chat, flirt and get on Shipwrecked.
Islandoo launched in September 2006 to audition people for Channel 4's Shipwrecked.
Since then, we have had auditions for Models 1, ITV's Ladette to Lady and a bunch of prize give aways. Islandoo turned into a great place for chat and meet people. But Shipwrecked has always been key – so it is great to have Shipwrecked casting back.
Shipwrecked is a reality show and Islandoo allows you to audition for the show and also create a profile so you can demonstrate that you'd be good for the show. It's quite brilliant in the sense that if you show that you'd make for good TV (being the consummate jerk or good guy, for instance) you'll make casting directors' jobs a lot easier when they bring you in for the big audition.
Finally, I ended up bumping into my buddy Peter Daniel Straus who I did a play with about 15 years ago. Peter is a clown…professionally. As in Ringling Brothers. Peter has some of the best stories of anyone I know. He told me today about a friend of his (fellow clown) who used to live in Russia. His upstairs neighbor would sometimes slaughter one of their pigs or chickens in what was apparently a flimsily designed building as the blood from the animals would trickle down into Peter's friend's apartment. Grisly, but where do you hear stories like that? From my friend Peter, that's who.
And I bumped into him in NYC, and Toby knew folks at Paltalk and it's a small world. And a fun one.