Who doesn't love free stuff? If you do, then listen to The Writer's Room. Host Jill Robinson, accomplished author and founder of the Wimpole Street Writers in London has two novels to give away on the show.
Jill will be giving away a copy of The Savage Garden by Mark Mills, and also A Place Called Here by Cecelia Ahern. All you lucky listeners have to do is call in with the answer to the questions she will ask. Free novels! And I believe that includes shipping and handling.
Jill welcomes author Olivia Lichtenstein as her guest on this special edition of The Writer's Room. Formerly a documentarian for the BBC, Olivia has recently written her debut novel Chloe Zhivago's Recipe for Marriage and Mischief, which has received rave reviews. Jill and Olivia will explain how to write cheeky and funny, and maybe even read from the novel!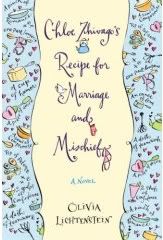 Check out The Writer's Room at 3pm EST and you could be reading a new (free) novel by the pool this summer!

Hilary