Christopher "Preacher Boy" Watkins is a poet and songwriter. He joins the Speak Easy Café tonight.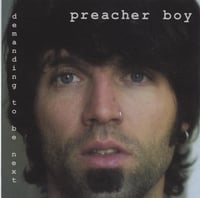 Join them live Today at 7pm ET. "Demanding To Be Next" is Preacher Boy's fifth album, and his first solo acoustic disc. He toured all over the US & Europe, opening for Grammy-winning multi-platinum Eagle-Eye Cherry in 17 countries.
His poems are appearing or have appeared in Hayden's Ferry Review, The GW Review, Slipstream, Euphony, Talking River, Red Rock Review, and the anthology "In Our Own Words: A Generation Defining Itself" (MWE Press), among others.
He was the Fall 2006 Writer-In-Residence at The Jack Kerouac Writer-in-Residence Project of Orlando. His collection of poems "Short Houses With Wide Porches" is forthcoming from Shady Lane Press.